The weekend is over and a new week has begun. That doesn't mean that the CEO has done his laundry though. He came in dressed in business attire because he hasn't gotten a chance to do his laundry yet which is good and bad. The good: his slacks and business shirt make him look slim. The bad: he looks like a douchebag. He also had to tie his penny loafers while on the way to lunch.
The weekend was pretty exciting for everyone. The Graphic Designer went to a concert, I went to a show, and the Head of Marketing finger blitzed his cousin/girlfriend into the 7th realm of heaven.
The Engineer went out dancing over the weekend but he had a lot questions about how exactly to dance. As the office cheerleader and dance enthusiast I suggested he dagger. I explained to get on a ladder and then dive into the hopefully wanting, hopefully waiting arms of a nice lady. I also suggested he approach women by saying "Yo Girl."
The Graphic Designer with his normal amount of sagacity suggested he just stick to a simple "white boy sway."
The CEO thought daggering sounded like a great time and suggested it as a chain of workout classes. Potential pivot in effect!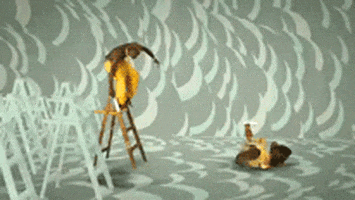 It was also suggested that he pay attention to what type of music it was. You don't neccessarily want to be waiting for the beat drop on Phil Collins even though Phil Collins is sick.
The Office Lesbian meanwhile didn't get much rest over the weekend.
"My roommate went to jackhammering at 4 in the morning," the Office Lesbian said. "There wasn't anything I could do about it. I mean at that time of night you need to be having Kenny G love making."
The Office Lesbian's housemates not only jack hammer their pelvic uglies together but also are getting really into some sort of positive thought cult. The Office Lesbian would have none of their bullshit PMA.
Before we went out to lunch I blew the conch shell as a call to productivity!
We went to some salad place for lunch which everyone has been liking a lot. I cut in front of the Graphic Designer and the Office Lesbian inline. They didn't say anything and I felt really good about it so I rewarded myself with a brownie! Yum!
The CEO asked me to do my job today. I had to write up a report of some sort. I had no idea what he was fucking talking about but luckily I was able to hand it off to the Office Lesbian who saved my ass via fabrication – further proof that work is one big lie and further reinforcement that behind every man is a woman who actually does his job.
Evidently if "we" finish up a big project by the end of the week the company is gonna go out to some fancy dinner on the CEO. Woo hoo! I really hope that the Engineer and all the contractors pull through for us because the rest of us aren't doing shit.
Along with thinking about fancy dinners and drinking on the CEO's dime I also listened to a lot of Phil Colllins. I am ready to take on the world!