The Office Lesbian has an impressive musical memory. We turned on the office jukebox and as normal she sang along with every single song that was played. Her lyrical lexicon ranges from Incubus to 4 Non Blondes to Le Tigre and Skid Row. I was very impressed as I can only remember the lyrics to Nickelback songs.
The cousin came in again today. Luckily she kept to herself and napped on the sofa.
The Head of Marketing has been recruiting a swarm of Euro Trash from the far east for our new product. The Engineer has had to field tons of interviews with unibrowed Euros who love swimming in the ocean.
There is much excitement about potentially going to eastern europe!
The CEO didn't come in today until the late afternoon. He was busy reviewing his Bavarian Porn. I assume his wrist will be really tired tomorrow. Poor guy.
My voo doo spell from yesterday didn't work out that well. The Head of Marketing had ZERO new zits. I may have to give up on black magik… or redouble my efforts.
The Office Lesbian did end up seeing someone rooting in the trash later. She asked me to help her out as she was a little nervous. It ended up being the Head of Marketing.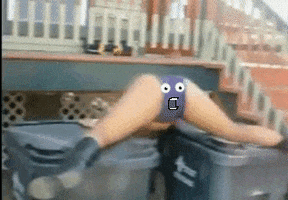 He was digging up material to make a sign for his new start up.